2017 Fundraiser Event with Rockie Lynne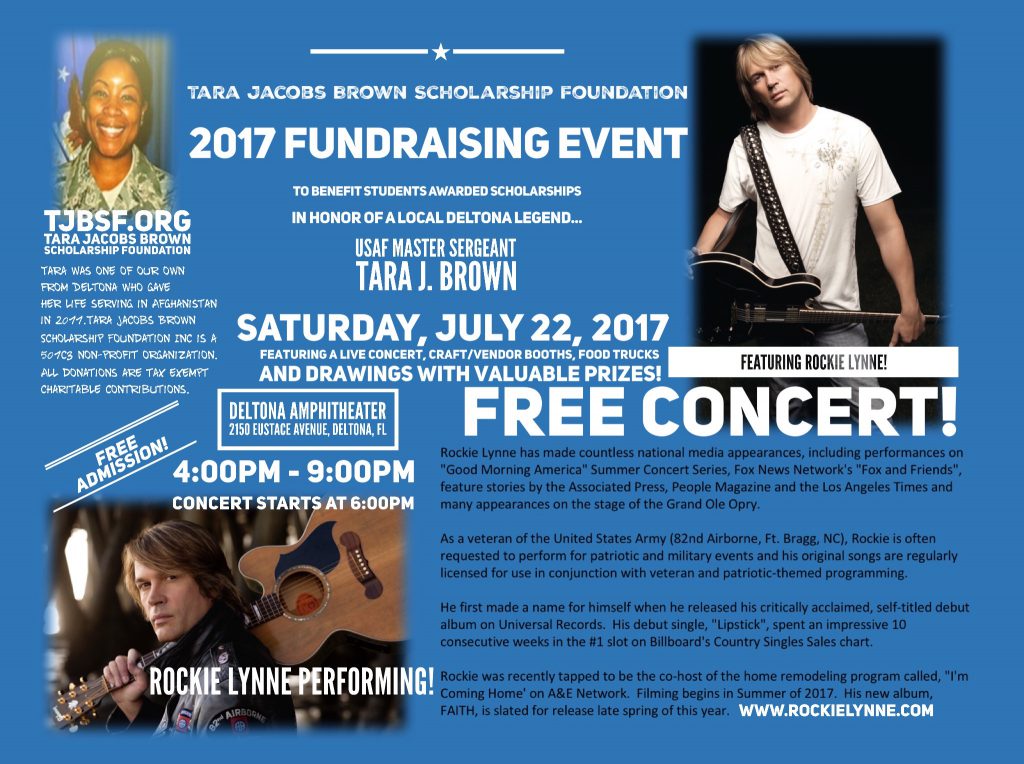 Tara Jacobs Brown Scholarship Foundation
2017 FUNDRAISING EVENT
To benefit students awarded scholarships in honor of local Deltona legend
USAF MASTER SERGEANT TARA J. BROWN
FREE CONCERT
FEATURING
ROCKIE LYNNE!
Saturday, July 22, 2017
4:00 – 9:00
LIVE Concert, Craft/Vendor Booths, Food Trucks and
DRAWINGS with VALUABLE PRIZES!
Deltona Amphitheater
2150 Eustace Avenue, Deltona, FL
ABOUT ROCKIE LYNNE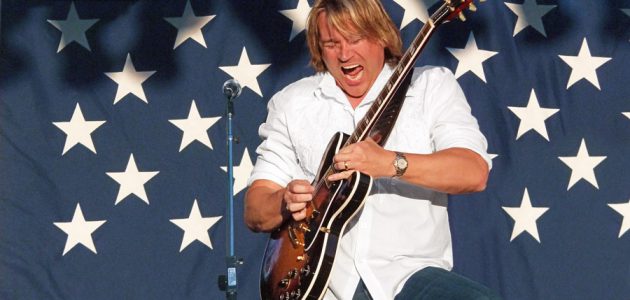 Rockie Lynne has made countless national media appearances, including performances on "Good Morning America" Summer Concert Series, Fox News Network's "Fox and Friends," feature stories by the Associated Press, People Magazine and the Los Angeles Times and many appearances on the stage of the Grand Ole Opry.
As a veteran of the United States Army (82nd Airborne, Ft. Bragg, NC), Rockie is often requested to perform for patriotic and military events and his original songs are regularly licensed for use in conjunction with veteran and patriotic-themed programming.
He first made a name for himself when he released his critically acclaimed, self-titled debut album on Universal Records. His debut single, "Lipstick," spent an impressive 10 consecutive weeks in the #1 slot on Billboard's Country Singles Sales chart.
He is the founder of a national charitable organization, Tribute To The Troops, now in its 14th year.  This 501c3 has raised over $600,000 for a college fund designed to provide tuition for children who have lost a parent in active duty.    To date they have opened college savings plans for 41 children in five states.  www.tributetothetroops.org
As the owner of Nashville-based music publishing company, Carolina Blue Sky Music, Rockie serves as the Chief Creative Officer of a music house that has placed songs in feature films, television programs and commercials.  He is also the owner of Tone Studios, a full-service recording studio. His extensive knowledge of music production combined with his skills as a composer, hit songwriter and guitar player contribute to him being a favorite of national media outlets.
His original compositions have been included in countless regional and national network programs, of which highlights include an Emmy Award-winning program produced by Wisconsin Public Television, CBS "Criminal Minds" episodes and "Fox NFL Sunday" broadcasts.
Rockie was recently tapped to be the co-host of the home remodeling program called, "I'm Coming Home" on A&E Network.  Filming begins in Summer of 2017.
His new album, FAITH, is slated for release in 2017.